TusHoldings' full-chain hi-tech business incubation system includes the world's largest incubation service system and the investment fund system covering the whole life cycle of technology companies.

1.TusStar Hi-tech Business Incubation Service System

Founded in 1999, TusStar Hi-tech Business Incubation Service System, with 20 years' operating experience, has extracted and summed up the four-in-one model of "incubation service + entrepreneurship training + open platform + angel investment" and the seven-step hi-tech business incubation method. So it has global competitiveness and influence.
By the end of 2018, TusStar had set up more than 120 global service outlets and incubated more than 6,000 companies. By holding nearly 3,000 innovation & entrepreneurship events each year, it has brought up a large number of outstanding hi-tech companies, including dozens of listed companies, such as Spreadtrum, GigaDevice, ChineseAll, iReal, Sumavision and Highlander, as well as unicorn companies represented by SenseTime, 4Paradigm, Mininglamp Technology, etc.
2.Investment Fund System Covering the Whole Life Cycle of Hi-tech Companies

TusHoldings has established a fund service system covering the whole life cycle of hi-tech companies. Its TusStar Angel Investment and TusPark Ventures are well-known venture capital institutions in China. At present, in TusHoldings' hi-tech business investment fund system, 56 funds are available, amounting to RMB 40 billion, and over RMB 20 billion has been invested in more than 500 hi-tech companies.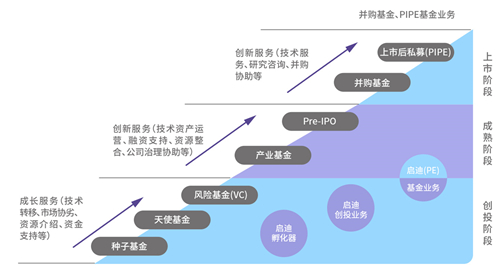 In advantage of the global innovation network and incubation system, TusHoldings has established joint venture fund management platforms and investment funds with such central government administered enterprises as ICBC International, CCB International, PICC, China Guoxin and Sinochem, focusing on strategic emerging industries and gathering multiple forces to serve the innovative development of Chinese hi-tech companies.