UNOSSC: TusHoldings' Global Innovation Network of TusHoldings is of Great Significance for Promoting Regional South-South CooperationPrint
Post Time:2019-11-01来源:Tusholdings
Recently, the South-South Enterprises Exchange and Collaboration Seminar jointly organized by TusHoldings and the United Nations Office for South-South Cooperation (UNOSSC) was held in Bangkok, Thailand. Adisak Jantatum, Consultant of the Public Relations Department of Asia-Pacific Regional Office, UNOSSC, and Herbert CHEN, Executive Vice President of TusHoldings, attended the Seminar and delivered speeches. More than 20 industry association leaders and entrepreneur representatives from China, Thailand, Malaysia and South Korea got together to discuss regional cooperation.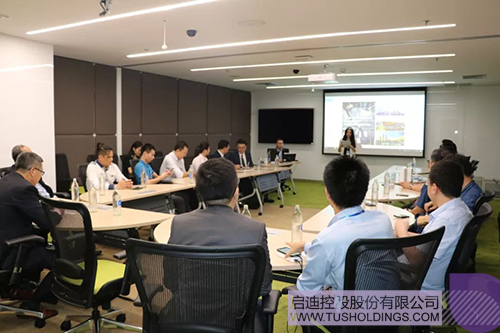 In his opening speech, Consultant Adisak Jantatum introduced the functions of UNOSSC. According to him, south-south cooperation is an important measure for developing countries to jointly respond to challenges and seek sustainable development, and the UNOSSC, as an independent entity appointed through the resolution of the UN General Assembly for the overall coordination of the UN system, ,the global south-south cooperation and the triangular partnership, can provide business support for governments of member states, intergovernmental organizations and UN agencies in the fields of policy advocacy and coordination, strategic research, knowledge sharing and innovative south-south projects related to south-south cooperation. As he said, the Seminar brings together a number of associations and enterprises from China, Thailand, Malaysia and other countries by means of TusHoldings' global innovation network, which is of great significance for promoting regional south-south cooperation. He hopes that this will promote more inter-regional cooperation in the future.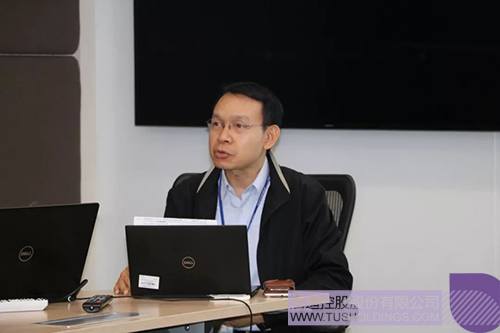 Opening speech by Consultant Adisak Jantatum
In his speech, Executive Vice President Herbert CHEN introduced the four features of TusHoldings. The first feature is that TusHoldings is a technological investment holding group powered by Tsinghua University specializing in sci-tech services, i.e. a school-run company of Tsinghua University; the second feature is the mixed ownership: through the mixed ownership reform, TusHoldings has the dual status of school-run state-owned enterprise and private enterprise, and two missions, resulting in TusHoldings' unique management model and operational philosophy; the third feature is its incubation of high-tech enterprises: with more than 20 years' professional sci-tech service experience, TusHoldings has incubated and cultivated a large number of outstanding high-tech enterprises; the fourth feature is that it has established a unique global innovation service network that covers more than 80 countries and regions around the world. He said, "TusHoldings is willing to work with the UNOSSC to promote regional south-south cooperation. And I hope that everyone will take an active part in and benefit from the following exchanges."
Speech by Executive Vice President Herbert CHEN
After that, Veerachai Monsintorn, Chairman of the Thailand-China Industrial Cooperation Committee, delivered a keynote speech titled "Introduction to Investment Opportunities in Thailand" and shared the local innovation & entrepreneurship situations in Thailand and relevant government support policies. More than 20 companies in the fields of intelligent manufacturing, IOT, TMT and brain science introduced their own business scopes and conducted one-to-one communication to seek the space for cooperation.
Speech by Veerachai Monsintorn, Chairman of the Thailand-China Industrial Cooperation Committee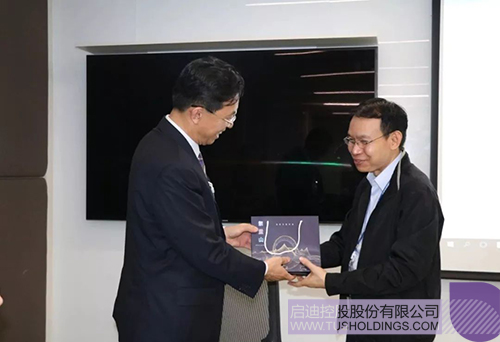 Executive Vice President Herbert CHEN presented a souvenir to Consultant Adisak Jantatum.
Prior to the Seminar, the "South-South Cooperation Innovation Reform Seminar" was held at TusStar (Shenzhen) in the mid-October. During the stay in Thailand, the delegation led by Executive Vice President Herbert CHEN also visited the UNOSSC and had a talk with Denis NKala, Asia-Pacific Coordinator of the UNOSSC. The two parties conducted in-depth discussions on their future cooperation in the fields of technological innovation & entrepreneurship, sustainable development, etc.