Board Chairman WANG Jiwu Attends the 2019 Zhongguancun Forum and Meets Ebba Lund, CEO of the International Association of Science Parks and Areas of InnovationPrint
Post Time:2019-10-18来源:Tusholdings
On October 18, Board Chairman WANG Jiwu was invited to the 2019 Zhongguancun Forum. He delivered a keynote speech titled "Cluster Innovation and Science Park Innovation Network" in the Parallel Forum on Global Science Park Transformation and Development. During the forum, WANG Jiwu met Ms. Ebba Lund, the new CEO of the International Association of Science Parks and Areas of Innovation (IASP), to discuss the relevant topics.
In the keynote speech, WANG Jiwu highlighted TusHoldings' core innovation theory and years of innovative practice experience. TusHoldings has built an innovation network with incubators, science parks and tech towns as its products. During the 25 years' innovation practice, it has brought up a large number of emerging industries as the "strategic emerging industry engine" in China and even in the world. TusHoldings' global innovation network enables the gathering and flow of world-leading technologies, talents, industries and capital and fully exerts the advantages of cluster innovation. Based on the "triple helix" innovation theory of "government + enterprises + universities", "industry + parks + finance" and "industry + technology + capital" and the model of "incubation + investment", TusHoldings, born in Zhongguancun, has achieved rapid development and provided the model and template for industry-academy-research cooperation in the past few years. He hoped to further expand the cooperation with Zhongguancun, so as to achieve further innovation and development in the new era, and promote the technological innovation cooperation across the country and even the world. He suggested that the world's science parks should make more cooperation to achieve coordinated development in technological innovation around the world.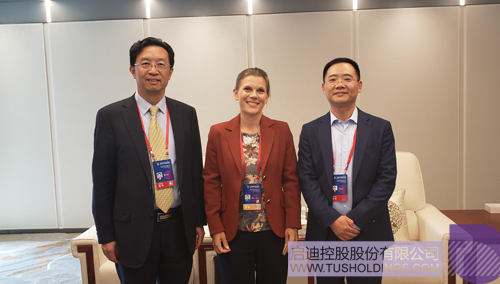 During the meeting, Ms. Ebba Lund, on behalf of IASP, expressed her sincere gratitude to TusHoldings and Board Chairman WANG Jiwu for their advice and long-term substantive support for the convening of IASP World Conference, the work of the IASP China Office and the enhancement of the world influence of IASP. WANG Jiwu congratulated Ms. Ebba on her new position as CEO of IASP in lieu of Mr. Luis, and said that TusHoldings would continue supporting IASP to make full use of the international science park cooperation network to provide valuable solutions to the problems and challenges faced by the world today. Herbert CHEN, Executive Vice President of TusHoldings and Vice Chairman of IASP, also attended the meeting.
The Parallel Forum on Global Science Park Transformation and Development of 2019 Zhongguancun Forum was hosted by the Torch Center of the Ministry of Science and Technology, the Zhongguancun Science Park Management Committee and the International Association of Science Parks and Areas of Innovation (IASP), and organized by the IASP China Office and TusHoldings, and co-organized by TusCity Group. Leaders from the Ministry of Science and Technology, Beijing, Zhongguancun, Hong Kong Science Park and major domestic high-tech zones, and the main responsible persons from IASP, Japan Science and Technology Agency, Swiss Innovation Park, Cambridge Science Park and other institutions attended the event to give suggestions on how to promote the transformation and development of global science parks.